Features
Technical Parameter
| | | |
| --- | --- | --- |
| Item | Product Name | Model |
| 1 | Paper straw making machine(high speed) | GDZGJ-30 (9blades) |
| 2 | Paper straw bending machine | GD-Be450 |
| 3 | Dryer for paper straw | GD-ED |
| 4 | U shape straw packing machine with bevel cutting function | GD-P500 |
| 5 | Lifter conveyor | GD-PSF |
| 6 | Automatic vision inspection machine | GD-W01 |
| 7 | Tetra-pack straws mega-boxing machine | GD-LC |
High speed paper straw machine(5 servo motors)
Winding/spiraling different layers paper strip into paper tube with glue.
Multi-cutting knife system, by servo tracking, cut paper tube into small piece of paper drinking straws.
Material: food grade white craft paper and food grade glue.
Sub-raw material: may need oil for lubrication and cooling. White mineral oil.
Standard electric power: 380V/ 3phase/ 50Hz, could change by special requirement, like 60Hz or 220V/ 3 phase.
Electric consumption: Rated power, 6.15KW/h
FLA( Full load amp): 13.5A
Capacity
How many pieces straw per minute. For example: 80m/min, making 6*197mm straws. Consider some waste, we use 200mm for calculating.
80*1000/200=400 pcs/minute.

Total machine includes 6 parts: from left to right side
Paper roll hanging bracket, 4 layers, auto connecting/splicing;
Glue station, stainless steel, glue auto feeding;
Winding and control mechanism;
Muti-cutting system, 8 cutting knives with dust & protecting cover;
Conveyor;
Collector.
Advantage of GDM-30
Higher Speed,max 120m/min input, 95m/min out put.
9 cutting-knife system, new structure of cutting cylinder. Easier to adjust air cylinder up and down when making different diameter paper straws.
5 sets servo motor for spiraling roller, cutting system moving left & right, supporting roller and cutting knifes.
Auto paper roll connecting function hanging bracket, auto splicer, 4 layers. Other brand paper straw making machine paper roll hanging bracket is only 3 layers.
Auto feeding function glue station.
Auto lubrication grease feeding system for cutting system.
Overall size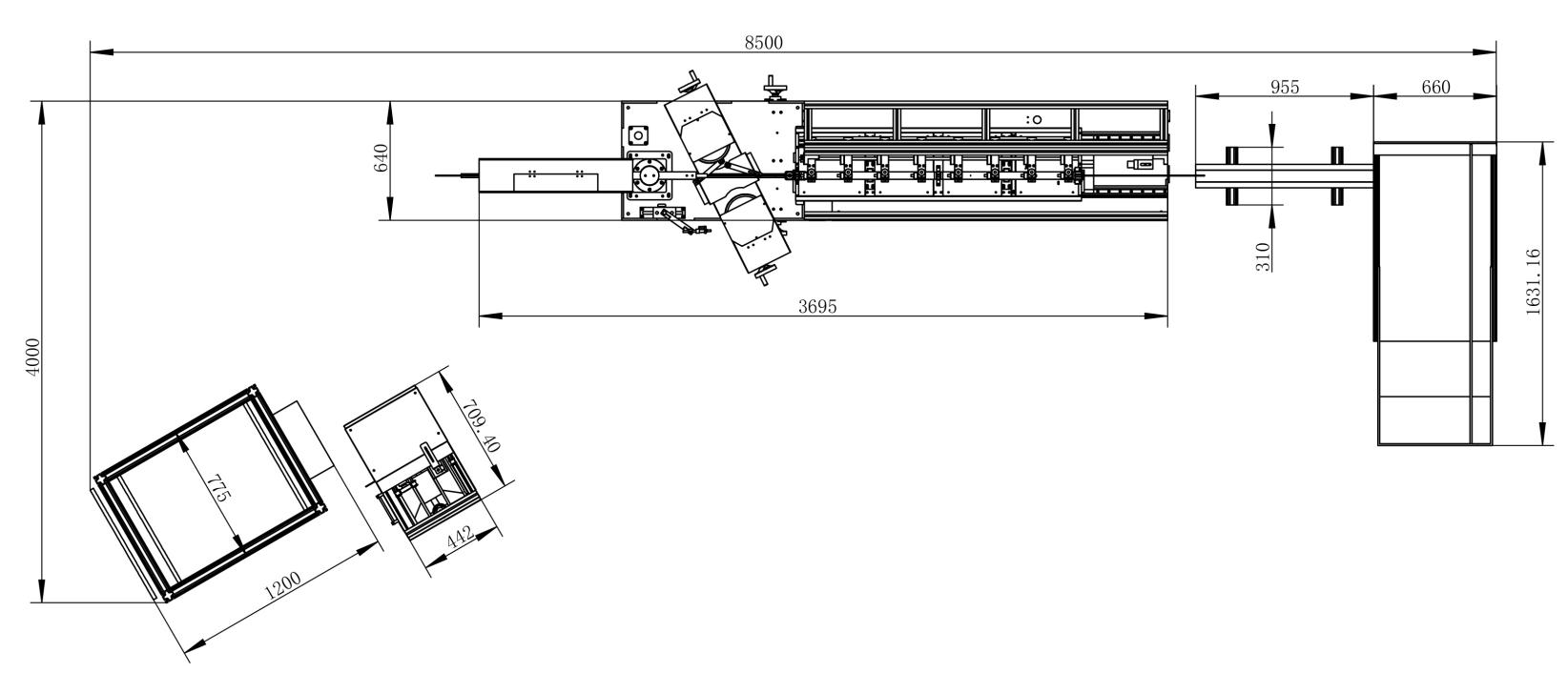 Different unit dimension
| | | | |
| --- | --- | --- | --- |
| Unit Name | Dimension (mm) | Unit Name | Dimension (mm) |
| Winding & control unit | 1720*1050*1680 | glue station | 670*720*1430 |
| Multi-cutting system | 1950*650*1450 | Conveyor | 1200*400*1050 |
| Paper roller bracket | 1120*1300*2050 | Straw Collector | 1650*520*1080 |
Specification and Parameter
Model number

100M high speed paper straw making machine (GDZGJ-20)

Technical parameter

Control system

Layer of paper

3-4 layers

PLC controller

Schneider

Max. diameter

12mm

Human machine interface

Schneider

Min. inner diameter

5mm

Program version

GD-XJ2.0

Max. thickness

1mm

Servo system

Schneider

Min. thickness

0.2mm

Performer

Schneider

Min. length

70mm

Max.length(between 2 blades)

1380mm

Output speed

3-110m/min

Signal component

Omron

Winding system

2 servo/1 pc belt

Pneumatic component

Airtac

Cutting way

9 knives pneumatic/1 servo

synchronous control

Synchronous belt

Glue method

Double side/single side

Sync tracking cutting system

Servo sync tracking system

Lenght control

encoder

assemble

Operator

1 person

Tube rack

Have

Mandrel fixing

Screw clamp

Belt angle adjustment

Wheel adjustment

Speed control

servo

Belt tension adjustment

Wheel adjustment

Power input

3P/380V/50HZ

Paper-break stop function

have

Dimension

Glue method

Schutze glue spray system

Machine dimension

4250×640×1600mm

Lubrication

Electric roller

Floor area

9500×3500×1900mm

Paper tension control

Continuous tension control

Wheel diameter

195mm

Paper holder

Automatic paper connecting holder

Wheel height

100mm

Belt

Piece baseband

Max. spin speed

200r/min

Totalweight

1350KGS
Paper Straw Drying Machine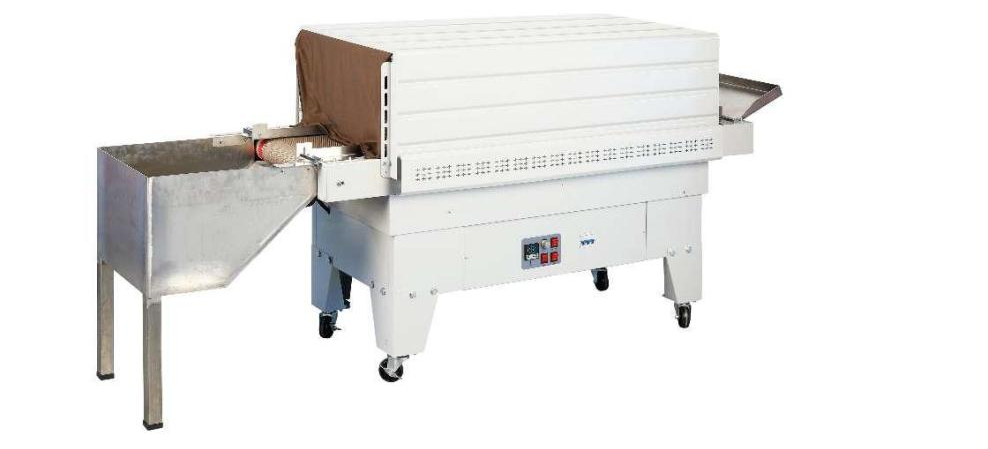 Product Application
In order to have a better quality for paper straw, it's better to dry nearly one day before packing or wrapping. But sometimes, it's urgently to deliver straws to customers or there's a rainy day, so the dryer machine for paper straws is needed.
Main Features of Paper Straw Dryer Machine
1. Automatic transfer;
2. Energy conservation;
3. Transfer speed and wind speed controllable;
4. Temperature intelligent operation.
| | | | | | |
| --- | --- | --- | --- | --- | --- |
| Model | Voltage | Power | Dimension | Transporting Speed | Weight |
| GD-ED | 380V | 9.6KV | 2300*700*1020mm | 0-10m/min | 120Kg |
Paper straw bending machine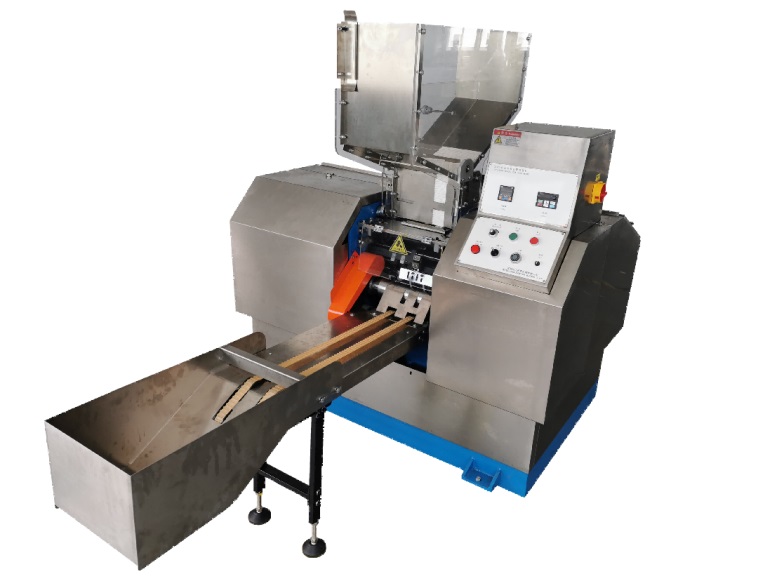 GD-be450 series automatic bendable straw forming machine is the supporting equipment of paper straw machine, which is used to process straight pipes into bendable straw. The whole equipment automatically exits the pipe from input to finished product output, and only needs to manually add the straight pipe blank to the hopper on the upper part of the forming machine.
Main features
1. Stable operation and stepless speed regulation.
2. Automatic counting, designated batch alarm, convenient for manual bagging.
3. It has the function of automatic shutdown in case of failure.
Name

GD-Be450

Power

Motor Capacity

1.5/2.2KW(VFD)

Power

380V/3Phase/50Hz(Can customized)

Speed

280-320pcs/min

Paper straw data

Inner Diameter

3.8mm

4.8mm

5.8mm

Length

165mm-245mm

200mm-260mm

200mm-260mm

wall thickness

0.15±0.02

0.19±0.02

0.19±0.02

Lifting length

150mm-230mm

185mm-245mm

185mm-245mm

Length of corrugated upper part

30mm-50mm(Adjustable)

Ripple length

8mm-12mm(Adjustable)

Size

L*W*H 1500mm*1800mm*1600mm

Weight

1000kgs
U-shape paper straw packing machine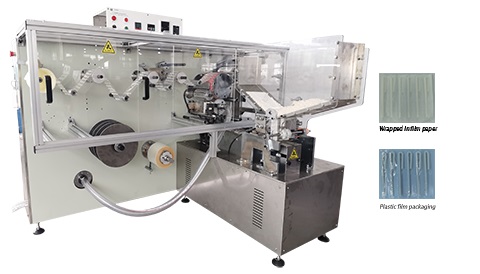 Product Introduction:
GD-UP500 Tetra Packing machine, it's function is to pack U-shape or straight drinking straws in line, which is used for aseptic-packing beverage like milk and juice. It could finish fold, sharp end cutting and packing at same time.
The beverage company will cut straws into individual package, then stick straws on paper carton and box. (This working process is finished at beverage company, not straw making factory).
The produce process is total automatic. Operator just need put paper straws into the hopper, put on packing materials, then start the machine.
Machine Features:
Whole process automatically, packing speed controllable, auto stop when there's a fault;
High production efficiency, one operator, 250-300 pcs/min;
Bevel (sharp end) cutting controlled by servo motor, ensuring all sharp ends are packed in the same direction. Air absorbing device take waste sharp end materials away
Automatic counting for how many pcs of paper straws had finished;
Automatic stop when there is a fault.
Could u、se packing material like plastic film, or PLA(other biodegradable adhesive) coated paper.
Technical parameters and specification
Model

GD-UP500

Voltage

380V/3 phase/ 50hz

Machine size(L*W*H)

2000x1750x1600mm

Machine weight

1000kg

Machine Speed

200-300 pcs/min

Straw inner diameter

Straw out diameter

Inner diameter :3.7 mm; out diameter: 4.5mm 3.7mm,4.5mm

Length: 160-170mm,160-170mm

Other size are Customization.

Packing method

Four-sides seal

Packing material

Material which could be hot sealed.

Like BOPP plastic film, or biodegradable adhesive coated paper.

Packing material specification

Packing material shape: roll;

Max roll diameter: 280mm;

Max roll width: 180mm;

Core diameter of roll: 76mm, 3 inches;

Film thickness: like BOPP, 20-30卩m ( 1卩m=0.001mm)

Packing unit(shape)

Pitch: 22mm, width:100-140mm;

Size of U-shape model

Depends on customers design and drawing

Main motor

2.2 kw/h, brand: SIEMENS BEIDE

control by frequency changer, 2.2Kw/h,

Servo motor

Brand: DELTA,ervo motor: AC, 0.2Kw

Auxiliary motor

220V, 50/60Hz, 120W, brand: OTG, Shanghai

Magnetic powder brake

10N.m, DC24V,0.6A,

AC contactor

Schneider

Pneumatic component

AIRTAC
Tetra-pack straws mega-boxing machine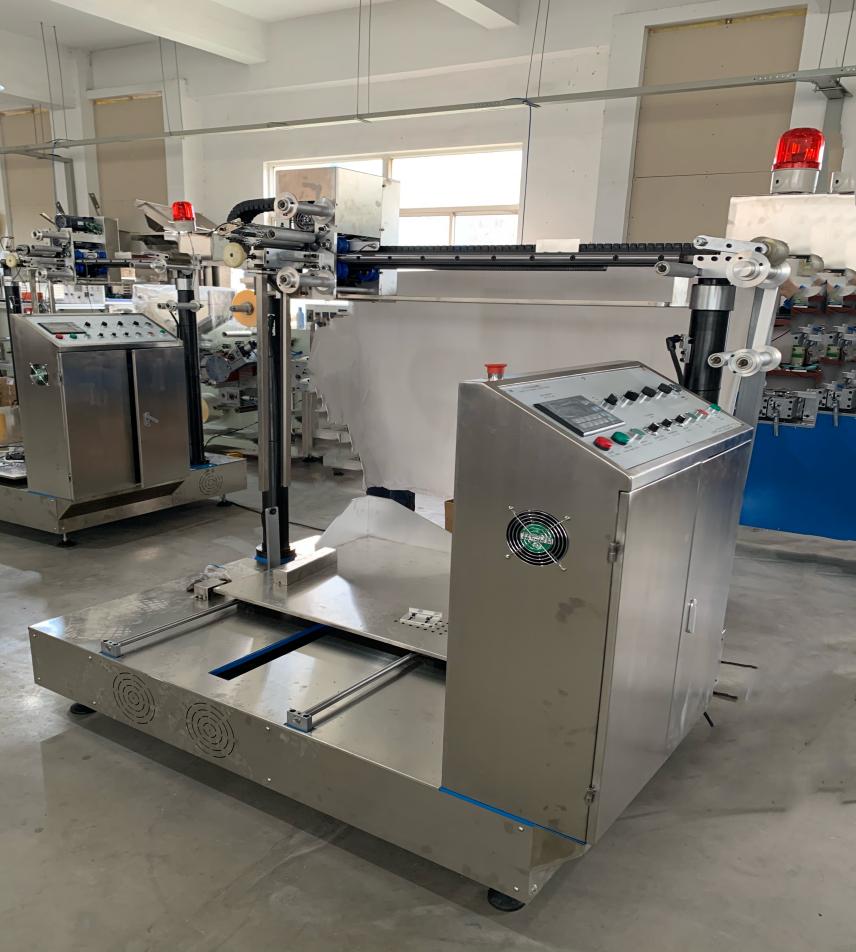 GD-PSF Zig-Zag Mega carton folder is an auxiliary equipment of the JY033 U-shape drinking straw packing machine and JY032-II I-shape straw packing machine..This equipment can box the U-shape straws,I-shape straws automaticly, it replace manual packaging greatly improving work efficiency.Replacement will reduce the amount of performance malfunctions created by manual labour.The entire of machinery is controlled through PLC.which has a stable performance and is easily operable.
Specifications
Driving motor

Up-down

0.75kw control by PLC

Straws traction

60w

control by PLC

Straws Swing

60w

control by PLC

Box moving

0.37kw

control PLC

Capacity

600~700 pcs/min

Operating method

Automatic

Machine size

1600×1200×2000mm

Machine weight

800kg
Configuration table of GD-059 U-shape straw boxing machine
| | | | | |
| --- | --- | --- | --- | --- |
| | Name | Type | Quantity | Remark |
| 1 | 小马达Motor | 0.75KW | 1 | 西门子 Siemens |
| 2 | 减速机Reducer | WPO-50-10-B | 1set | 杭州誉球Hangzhou yuqiu |
| 4 | 变频器frequency converter | 0.4KW | 2sets | 台达Delta |
| | | 0.75KW | 1set | |
| 5 | PLC | DVP40ES200T | 1set | |
| 6 | 显示屏display | TP04G-BL-C | 1台 | |
| 7 | 接近开关proximity switch | E2B-M12KS04-WP-C1 | 7pcs | 欧姆龙OMRON |
GD-W01
Automatic vision inspection machine for belted straws:
The system uses visual inspection technology for on-line quality inspection in the production process of belted famat paper straws; Including lack straw, flattening straw, abnormal length
system parameter:
System structure:Frame (stainless steel)
Electric control box (including circuit breaker, switching power supply, PLC etc).
3. Microcomputer: i5,32g solid state disk, double gigabit network port
4. Screens
5. working voltage:220VAC
6.Rated power:1250W
7.Industrial camera: global shutter, Gigabit Ethernet.
computar:16mm
Industrial visual light source:2
8. Light source controller:2
machine size:1500*900*1700mm