Features
Technical Parameter
Working Principle and short instruction:
Winding/spiraling different layers paper strip into paper tube with glue.
Multi-cutting knife system, by servo tracking, cut paper tube into small piece of paper drinking straws.
Material: food grade white craft paper and food grade glue.
Sub-raw material: may need oil for lubrication and cooling. White mineral oil.
Standard electric power: 380V/ 3phase/ 50Hz, could change by special requirement, like 60Hz or 220V/ 3 phase.
Electric consumption: Rated power, 6.15KW/h
FLA( Full load amp): 13.5A
Capacity:
How many pieces straw per minute. For example: 80m/min, making 6*197mm straws. Consider some waste, we use 200mm for calculating.
80*1000/200=400 pcs/minute.
100M high speed paper straw machine(5 servo motors)

Total machine includes 6 parts: from left to right side
Paper roll hanging bracket, 4 layers, auto connecting/splicing;
Glue station, stainless steel, glue auto feeding;
Winding and control mechanism;
Muti-cutting system, 9 cutting knives with dust & protecting cover;
Conveyor;
Collector.
Advantage of GDM-30
Higher Speed,max 120m/min input, 95m/min out put.
9 cutting-knife system, new structure of cutting cylinder. Easier to adjust air cylinder up and down when making different diameter paper straws.
5 sets servo motor for spiraling roller, cutting system moving left & right, supporting roller and cutting knifes.
Auto paper roll connecting function hanging bracket, auto splicer, 4 layers. Other brand paper straw making machine paper roll hanging bracket is only 3 layers.
Auto feeding function glue station.
Auto lubrication grease feeding system for cutting system.
Main electric parts choose famous brand, Schneider. Like main servo motor, servo motor driver, frequency converter, touch screen .
Overall size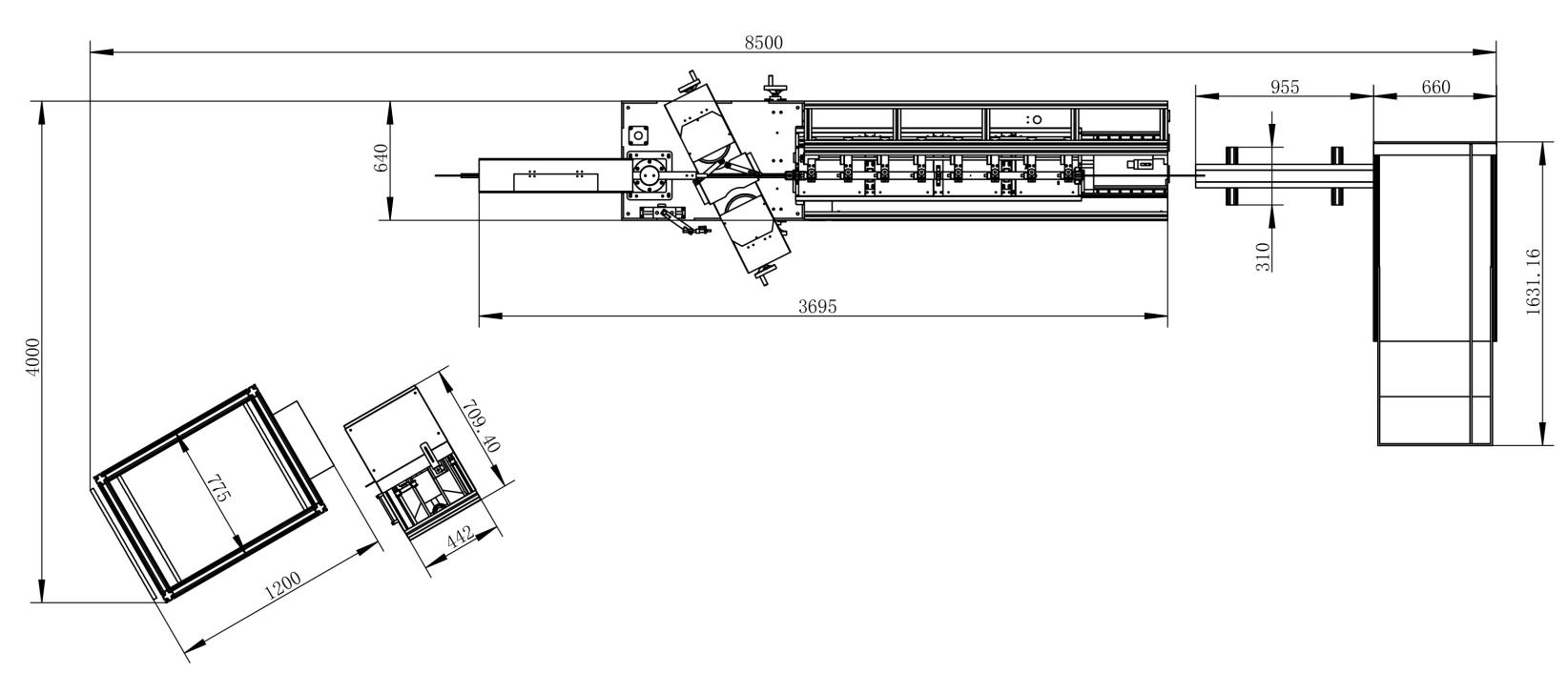 Different unit dimension
| | | | |
| --- | --- | --- | --- |
| Unit Name | Dimension (mm) | Unit Name | Dimension (mm) |
| Winding & control unit | 1720*1050*1680 | glue station | 670*720*1430 |
| Multi-cutting system | 1950*650*1450 | Conveyor | 1200*400*1050 |
| Paper roller bracket | 1120*1300*2050 | Straw Collector | 1650*520*1080 |
Specification and Parameter
Model number

100M high speed paper straw making machine (GDM-30)

Technical parameter

Control system

Layer of paper

3-4 layers

PLC controller

Schneider

Max. diameter

12mm

Human machine interface

Schneider

Min. inner diameter

3.5mm

Program version

GD-XJ3.0

Max. thickness

1mm

Servo system

Schneider

Min. thickness

0.2mm

Performer

Schneider

Min. length

90mm

Max.length(between 2 blades)

1580mm

Output speed

3-110m/min

Signal component

Omron

Winding system

2 servo/1 pc belt

Pneumatic component

Airtac

Cutting way

9 knives pneumatic/1 servo

synchronous control

Synchronous belt

Glue method

Double side/single side

Sync tracking cutting system

Servo sync tracking system

Lenght control

encoder

assemble

Operator

1 person

Tube rack

Have

Mandrel fixing

Screw clamp

Belt angle adjustment

Wheel adjustment

Speed control

servo

Belt tension adjustment

Wheel adjustment

Power input

3P/380V/50HZ

Paper-break stop function

have

Dimension

Glue method

Schutze glue spray system

Machine dimension

4250×640×1600mm

Lubrication

Electric roller

Floor area

9500×3500×1900mm

Paper tension control

Continuous tension control

Wheel diameter

195mm

Paper holder

Automatic paper connecting holder

Wheel height

100mm

Belt

Piece baseband

Max. spin speed

200r/min

Totalweight

1350KGS
Paper straw making machine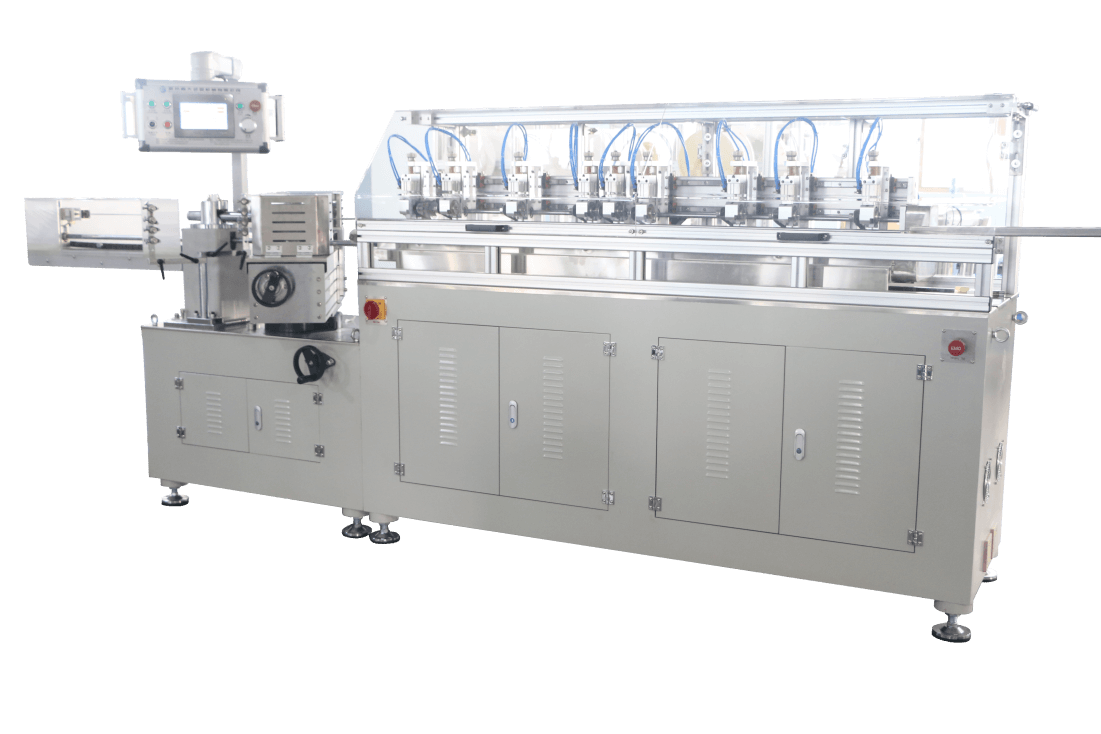 | | | | |
| --- | --- | --- | --- |
| Cutting blade | Mould Anti-vibration roller | Pull rod force sensor | electric socket and cooling fan |

Cutting blade material: W6Mo5Cr4V2
Unit Name

Description and advantages

Winding&control mechanism

Multi-knife cutting system

Carbon steel;
5 sets servo motor;
Dust & protect cover;
Language: Chinese, English, Spanish, Polish, Vietnamese, Portuguese and so on;
High and low voltage electric equipment separated isolation;
Laser cutting and heat treatment to avoid micro shaking;
Longer service life;
Famous brand electric equipment: Schneider
High speed and stable working;
Safety labels for protecting method;
| | | |
| --- | --- | --- |
| 2 auxiliary servo motor | Main servo motor | 2 winding roller servo motors |
| GD-XJ3.0 | Automatic refueling device | Stainless steel protective cover |
Glue Station
Unit Name
Description and advantages
Glue station

Aluminum and stainless steel frame;
Stainless steel glue pot;
Glue recycle system
Lubrication oil roller for inner paper strip;
One pair roller ( rubber roller and steel roller) for filming glue on paper.
1 motor to drive glue roller;
Easy to adjust glue quantity by adjust the distance of two roller.
Paper roll hanging bracket with connecting function
Description and advantages

Help paper straw making machine no stop working.
Use auto detection: When the paper roll is going to use out, the mechanism will cut the tail ends of old paper roll and connect new paper roll automatically.
Smaller dimension, easy delivery and moving to adjust paper feeding angle.
Construction simpleness. If paper break, no need to stop to route the paper up and down complicated.
Constant unwinding force for the paper rolls, to let paper feeding more smoothly.
Our own patent for this connecting mechanism, not copy from others, especially European brands, so no patent problem.
Optional choose: 4 layers connecting mechanism.