Features
GD-SS35 Paper Stick Machine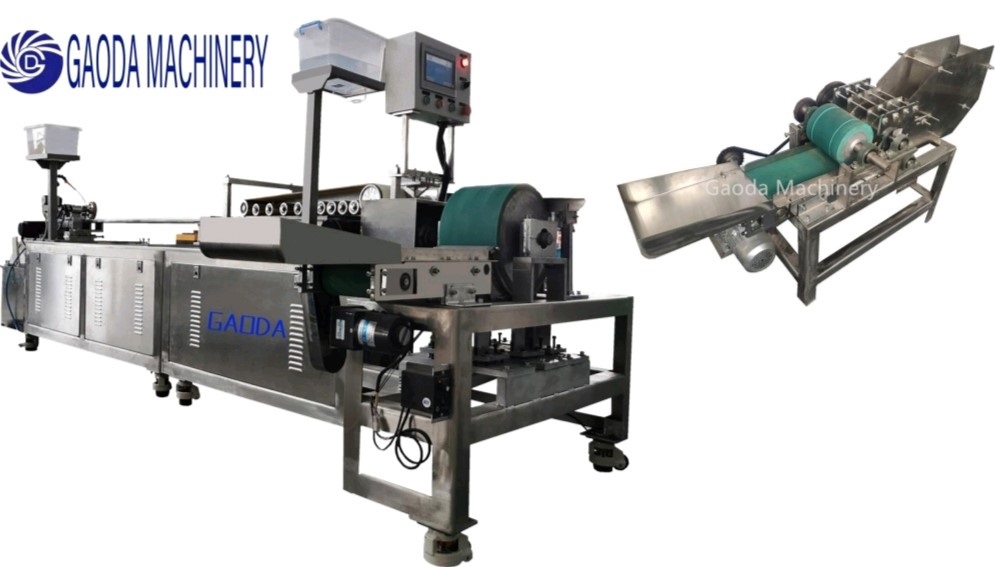 A paper stick machine has 2 parts: stick making part and length cutting part.
Application
With the implementation of the "plastic ban" in many countries around the world, disposable plastic products are gradually replaced by paper products. Paper sticks can be used to make cotton swabs, coffee stirring bar, lollipop shaft, cake sticks, aroma testing sticks, and so on. Solid paper stick, high hardness, degradable and environment friendly. With the promotion of the "plastic ban", the demand for paper sticks will also increase.
Features
IStainless steel body, long service life;
Adopt PLC and touch screen man-machine interface control, easier operation and overload protection;
Microcomputer automatic speed control and changeable, can accurately control the amount of adhesive glue water required for paper sticks;
The material is automatically controlled by magnetic powder brake to ensure stable paper feeding force;
Equipped with flexible manual rectify deviation device, which could adjust the feeding deviation of the paper agilely.
Technical Specification
| | | | |
| --- | --- | --- | --- |
| Model | GD-PS950 | Working speed | 0--50m/min |
| Electric power | 380V/3/50Hz | Paper stick diameter | 2--3.7mm |
| Rated power | 1.5Kw/h | Stick length | 68--160mm |
| Dimension | 3.5*1.5*1.5m | Operator | 1 |
| | | Weight | 900kg |
Details Picture


Production Process
1) Use slitting machine, cut big width paper into required small width paper rolls; 2) Put required width paper roll on first patt of paper stick machine to make paper stick; 3) The paper stick has sharp heads on both sides, so need length cutting machine to cut off the sharp heads.
4) If you ask sh01ter paper sticks, need •v e one longer paper stick Into two. At same time of divide into 2 short length sticks, the encls also could be cut off.
Raw Material
Paper roll and PVA.
Different diameter paper stick, need different thickness and width of paper roll;
Like 2.5mm diameter, may need 70gsm, 70mm width paper roll. PVA is used to make glue.